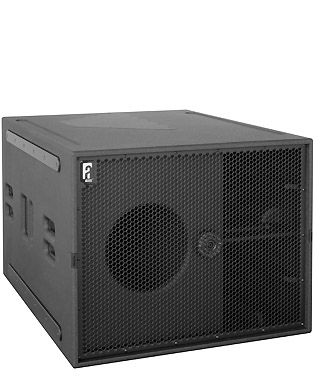 Double-tuned, quarter-wave loaded high-impact subwoofer system
21" woofer with all-carbon cone for high pressure loading
Large, rounded vent for improved breathing and low compression
Force-ventilated 5.3" voice-coil for low power compression prolonged performance
15mm birch with extensive bracing brings lightweight yet rigid cabinet construction
SIS™ pre-wired for very high damping and further reduced distortion (with ALC)
Durotect™ flexible and scratch-resistant coating
Description
The BQ211 is a quarter-wave loaded subwoofer system, extending the low frequency response of Alcons' pro-ribbon systems, in both permanent and portable applications. Featuring a state-ofthe- art 21" Neodymium transducer, this subwoofer is designed to offer maximum, prolonged high impact SPL performance from a relative small footprint. For this, the latest materials and innovations have been applied: A very large displacement transducer with all-carbon fiber cone + dust cap, 5.3" voice-coil with vented triple-spider frame plus optimized low resistance impedance, and port-vented magnet structure to maximally reduce power compression.

The extensively internally-braced cabinet features features double-tuned, high-pressure loading, through a rounded 236mm diameter low-tuned bass-reflex vent and a wide, high-tuned quarter wave tunnel. This provides optimised breathing at high SPLs, yet keeping the total system weight to a minimum.
Slider feet on cabinet bottom and side enable stacking of multiple BQ211's into vertical LF arrays: The additional front-positioned NL4 connector caters for easy "reverse connection" in cardioid arrays.

The BQ211 is powered and controlled by the ALC amplified loudspeaker controller; Through the SDP™ (Speaker Drive Processor) circuit, the ALC offers BQ211-specific drive processing with response optimisation, dedicated power and excursion protection, hybrid filtering and cardoid processing.

Through the SIS™ (Signal Integrity Sensing) circuit, the cable-length and connector resistance between the BQ211 and ALC is completely compensated (damping factor 10.000), further increasing response accuracy.
The quarter wave pipe principle in combination with a low tuning frequency, forms a true wideband subwoofer with high SPL performance down to the lowest frequencies.

Typical applications for the BQ211 include groundstacked sub-bass extension of main sound systems, used in multiples depending on the application and sound pressure level / dispersion pattern control requirements.
Technical Specifications
| | |
| --- | --- |
| Frequency Response | |
| +/- 3 dB | 33 Hz – 150 Hz |
| +/- 10 dB | 27 Hz – |
| Sensitivity (SPL 1W/M) | 100 dB |
| Nominal Impedance | 4 ohms |
| Recommended drive | ALC4 min., 1 pce. per channel (4 ohms) |
| SPL program/peak (nom.) | 135dB (ALC 6) / 140dB (comparative) |
| Dispersion H x V (array) | omni / (hyper) cardioid in array with processing |
Physical Specifications
System
subwoofer, bass reflex + quarter wave pipe
Drivers LF
1 x AW21.6NDC/4 21″ double vented
Connectors
3 x Speakon NL4 input / link (rear)
cardioid (front)
Physical dimensions
mm
Height
560
Width
747
Depth
986
Weight (approx.) BQ211
82kg
Weight (approx.) BQ211i
72kg
Warranty
6 years limited